Ecodesign and energy labelling establish minimum requirements for energy efficiency and eco-friendly design.  NVE is market surveillance authority for eco-design and energy labeling related to energy efficiency. You can find more information about the regulations on NVE's website.
The purpose of energy labeling is to provide consumers with easily recognizable and comparable information, which provides a basis for choosing the most energy-efficient products. The products are graded according to how energy efficient they are, based on a scale, where A is the best and G gives the worst grade. Energy labeling regulation imposes information requirements on manufacturers and suppliers, while retailers (shops) are required to place the energy labeling clearly visible.
In 2017, the EU decided to update the energy label. The purpose of the change is to make it as easy as possible to understand the energy label arrangement. This includes, among other things, a new grading scale that goes from A to G without further division. This means that the grades A+ to A+++ will disappear gradually.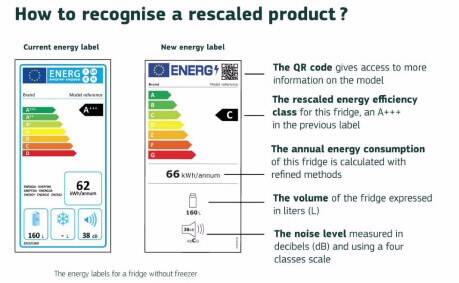 The Ecodesign Directive sets requirements for improving the energy efficiency and environmental performance of energy-related products for placing/or putting into service on the EU internal market. The directive is aimed at manufacturers/importers and covers the household sector, the service sector and the industry. If products meet specified ecodesign requirements, they qualify for CE marking, and may be sold throughout the internal market. Ecodesign requirements are intended to remove the least energy-efficient products from the market and reduce the environmental impact of energy-related products at all stages of their life cycle.
The EU is drawing up product-specific rules under the Ecodesign Directive on an ongoing basis, in the same way as for products covered by the Energy Labelling Directive. The EU has signaled that ecodesign will be a tool to achieve circular economy. Future requirements could be related to a products use of resources, how easy the product is to repair or recycle. Several products covered by eco-design requirements are also covered by energy label requirements.
Guarantees of origin are certificates to show an end customer that an amount of electricity is produced from a specific source. Guarantees of origin were first introduced in the 2001 Renewable Energy Directive (2001/77/EC), which entitled all producers of renewable electricity to obtain guarantees of origin. These provisions were retained in the 2009 directive (2009/28/EC), and extended to heating and cooling produced from renewable sources.
A guarantee of origin is a confirmation that one megawatt hour (MWh) of electricity has been produced from a specified energy source.
Guarantees of origin are tradable. In Norway, production plants are accredited for the guarantee of origin scheme for a five-year period, after which they must obtain new accreditation. Guarantees of origin are issued by individual countries, but many of the EU and EFTA states, including Norway, have joined forces to ensure that there is an international standardised system for recording trading in guarantees of origin. In Europe this is coordinated by AiB. Statnett is responsible for the Norwegian registry, and the Norwegian Water Resources and Energy Directorate is the supervisory authority for the scheme. Guarantees of origin can be used for marketing purposes, but are not a form of support that can be expected to trigger the development of new production capacity. Some countries, including Norway, have made arrangements for using guarantees of origin in electricity disclosure (sometimes known as 'electricity labelling'). Requirements for electricity suppliers to provide information on the origin of the electricity they sell, i.e. the fuel mix used in production, follow from the Internal Energy Market Directive. However, EU legislation does not require companies to use guarantees of origin for this purpose – another option that is available is to use production statistics for this purpose.